Gunty's Black Bear Sports Group Adds First Facility in Delaware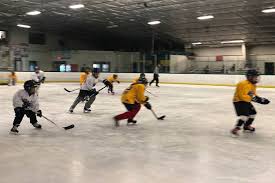 An affiliate of Black Bear Sports Group, Inc. ("Black Bear") has acquired the Patriot Ice Center in Newark, DE (the "Arena"). The Arena features one NHL-size ice rink and one Olympic-size ice rink, an athletic training gym, café, pro shop and a martial arts studio. The Arena is home to many young skaters and players in the area and, like many of Black Bear's arenas, frequently hosts youth and adult hockey tournaments throughout the year. Black Bear was founded by CEO Murry Gunty in 2015.
​"The Mid-Atlantic region is producing more and more talented skaters and youth players. Delaware is known for quality figure skating but many young players are passionate about hockey here as well," said Murry Gunty, Founder and CEO of Black Bear. "We are excited to add Patriot to our growing portfolio of east coast ice rinks."
The Patriot Ice Center is the first acquisition for Black Bear in Delaware and 12th investment on the East Coast. Patriot complements Black Bear's adjacent rinks including Ice World in Northeastern Maryland and three facilities in the nearby suburban Philadelphia area: Revolution Ice Gardens, Bucks County Ice Sports Center and The Igloo at Mt. Laurel.
"We are excited to improve the facility and strengthen the skating and hockey programming at Patriot," said Ryan Scott, Vice President of Black Bear. "Our immediate priority is to structurally improve the ice surfaces to ensure the community has quality ice for the upcoming season and to renovate the building to enhance the customer experience going forward."